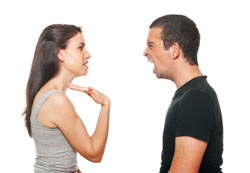 Does it seem like you're the only "normal" one in your family? Is work made miserable by colleagues who are difficult to work with?
Are your relationships plagued by people whose sole intention seems to make your life "a living hell?"
Many times the term "difficult" people are a label we put on others because we don't know how to handle them. If we knew how to deal with them then they wouldn't be difficult, right?
The most important thing to be clear about with difficult people is that you can't change them. But what you can change is the impact they have on you and how you react to that impact. So, in the end, it is all about you and not them.
You might feel this isn't fair, and it is unfair, and focusing on how you can handle them shouldn't stop you from having direct discussions with offenders about what you see and impact it is having on you. People who make "a living hell" for others deserve to be confronted about their behaviors and told to stop or not be a future part of your network or team, or even family if this is a personal relationship.
The bully, critic, or verbal abuser, operates this way because of insecurity in themselves. It has nothing to do with you. Life is generally unsatisfying for them and this is how they've learned to cope with being unfulfilled.
The tiresome people include the gossip monger; know it all's, and control freaks. These people just get on your nerves but you may still consider them friends or good co-workers. You just don't like one aspect of their relationship with you. The problem is over long term they evoke just as much poison into your relationship with them as other types, and so it festers and becomes difficult to deal with them.
So how do you cope with these different types of difficult people?
The answer we hinted at earlier and that is by changing how we react to them and limiting the impact they have on us. There are various programs you can take but here are some specific self-hypnosis products that will help you "limit their impact on you" by leveraging the power of your subconscious mind.
The list of products includes some powerful sessions covering: angry bullies, control freaks, gossip mongers, and critics, among many other types.
For best results listen to the self-hypnosis session daily for the first few weeks and then a few times a week afterwards. Depending on your own circumstances ideally listen after waking or just before going to sleep. You should be in a quiet environment where you'll not be disturbed and you can be fully relaxed. If you prefer to listen during the day then put a "do not disturb" sign on the door and turn off your cell phone.
Hypnosis downloads has the largest collection of self-hypnosis MP3 products online. Just choose the download(s) or package that describes your sport and challenges you want to tackle, click the link(s) and purchase them to download to your device. These MP3 products play on any device and you can share between your own devices, and they are inexpensive.
Best thing is you can play them whenever and wherever you want and convenient to you.
Clicking a link below will take you to the Hypnosis Download website:
Disclaimer: Clicking on one of the links above and purchasing a product may result in Free At Last Hypnosis receiving a commission. You do not pay more for the product because of this arrangement. We have a long standing relationship with Hypnosis Downloads and use their products ourselves. You should always do your own product evaluations to ensure they are appropriate for you and for what you will use them.
Erika Slater, CH
Director
Free At Last Hypnosis
Filed Under: Product Reviews