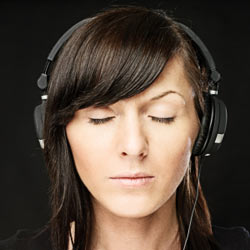 In today's hectic and stressful world the act of relaxation has been marginalized and reserved for end of day sleep, or – if you're lucky – vacations. Even sleep can be problematic for many of us, as our active minds take too long to quiet before we fall off to sleep.
For most of us, taking time to relax during the day to get refreshed is a lost art.
The fact is a small amount of relaxation each day goes a long way to reducing stress.
Reducing stress is beneficial to our health and relationships. A body under constant stress will break down and cause all manner of issues – some of them life-threatening.
There are many types of relaxation techniques you can use – yoga is popular – but of all the relaxation techniques and methods you could use, hypnosis and guided imagery are far and away the most effective – and fast. And when you combine hypnosis with other ways of relaxing that you already use, you have a super-charged and reenergized mind and body!
The subconscious mind is capable of placing you in your favorite relaxation place quickly, be it a tropical island you visited once or saw on the travel channel, or maybe a hike you once did in the quiet of the mountains. Myself, I enjoy lying on a sunny and warm beach listening to the waves lapping on the shores. We each have our own favorite spot or sounds we go to when day dreaming and need to get away from the demanding real world.
Some of the simple things you can achieve with self-hypnosis are power naps, deep rest, vacation islands, and yoga language – more about this later.
Here's a selection of what you can achieve with this aids to relaxation at a whole new level.
If you take a lunch hour each day then you can also afford to cut it short by 10-minutes and take a hypnotic power nap. After one of these you'll feel powerfully refreshed! This is the perfect antidote to that feeling of hitting rock bottom with your energy and concentration during the afternoon. This "time out" allows your body to tap into its natural rhythms and do all the rest and recuperation required to take you through the rest of the day.  This self-hypnosis download is designed to speedily and effortlessly help you have a 10 minute time out from everyday life.
If you're looking for 15-minutes of deep, deep relaxation then consider the hypnosis download called House of Deep Rest. Deep relaxation gets your mind working better. Even your memory works more efficiently when you have relaxed deeply. When we are over-stressed we become much less efficient and productive in all areas: physically, mentally and socially! This session guides you through a journey around a house of deep relaxation leading you eventually to the room of 'ultimate relaxation.'
People who put regular time aside – just 15 to 20 minutes every day – to relax properly gain incalculable benefits? Their immune systems function better, so they stay generally healthier. They feel happier and cope with stress better. They are more creative and inventive and so better at problem solving. They live longer. They have more fun. If you day dream regularly about enjoying a tropical island hundreds of miles away from the hustle and bustle of a commute or demands of other people then take yourself there whenever you wish with 'The Island" hypnosis session.
Enjoy drifting around the deeply relaxing atmosphere of a tropical island with this entrancing guided imagery hypnosis download. Remind your mind and body of the unparalleled relaxation that comes after a long time away.
The Yoga Nidra session is for deep meditation and calm. This is something for after your yoga practice when you need to still the body and mind and leave you cleansed and clear. Yoga teachers do not always use the proper relaxing language setting a negative thought rather than promoting positive calmness. This session is a wonderful compliment to your yoga practice.
For best results listen to a self-hypnosis session daily for the first few weeks to get used to the effect, and then as needed.
Hypnosis downloads has the largest collection of self-hypnosis MP3 products online. Just choose the download(s) or package that describes the type of relaxation you're seeking, click the link(s) and purchase them to download to your device. These MP3 products play on any device and you can share between your own devices, and they are inexpensive.
Best thing is you can play them whenever and wherever you want and convenient to you.
Clicking a link below will take you to the Hypnosis Download website:
Disclosure: Clicking on one of the links above and purchasing a product may result in Free At Last Hypnosis receiving a commission. You do not pay more for the product because of this arrangement. We have a long standing relationship with Hypnosis Downloads and use their products ourselves. You should always do your own product evaluations to ensure they are appropriate for you and for what you will use them.
Erika Slater, CH
Director
Free At Last Hypnosis
Filed Under: Product Reviews