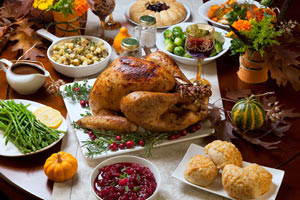 The holiday season is a month of fun, good tidings, cheer and plenty of socializing! If you have some Christmas parties booked for the upcoming holiday season then you will want to find ways to enjoy eating without putting on any extra pounds.
Here we look at some ways to eat healthy at your Christmas gatherings but still enjoy the goodies of the season!
To begin with do not refrain from eating on the day of a party and then go crazy at the buffet table once you get there!
That is not healthy and will lead to you consuming far too many calories. Instead make sure that you eat healthy throughout the day and do not arrive at the party ravenous. When we are hungry we tend to consume more food at parties than we would otherwise (especially if the food is free!). You don't want to feel stuffed or be stuffed when you leave.
Watch your portion sizes.
If you are adventurous when it comes to eating then you are likely to want to sample foods that you do not often buy for yourself to eat at home. Choose a couple of things to try but make sure that the portions are small. If you want to eat a sweet (or two) then that is fine just choose small portions. A little indulgence during the holiday season is permissible for everybody but you don't want to go overboard!
You have probably heard it before but it never hurts to emphasize it again, especially at this time of the year- moderation is the key.
Tis the season for high fat foods! While there may be many foods that are served at social gatherings that are high in fat content you do not have to eat them. Pick and choose carefully among the selection that is available to you. Some of the worst offenders that are full of fat include cream-based soups, casseroles that have cheese in them or have a cheese topping, fried foods, processed meats such as  pepperoni, salami and sausages, baked goods, cream-filled pastries (or those with lots of icing on them) and pies.
Egg nog is the festive drink of the Christmas season but the traditional version is made with egg yolk and thick cream. If you don't want to go without this drink at this special time of the year then look for a low-fat or fat-free option at the grocery store. There are plenty of commercial brands out there to choose from. Soy nog can even be found in some health food stores if you take the time to search for it. Another option is to go online and do a search for low fat egg nog recipes that you can make yourself at home. This is also good to know if you are the one throwing the party!
It is very easy to become dehydrated at this time of the year. For that reason you should drink plenty of water throughout the busy season. Alcoholic beverages (if you must have them) can dehydrate the body as can coffee.
Above all have fun and indulge but do it in moderation. Then come January 1st, 2011 you won't be staring at yet another diet.
Becca Scott
Health Staff Editor
Smoke Free At Last
Filed Under: Health