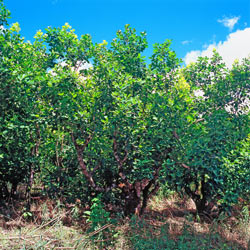 Yerba mate tea is a type of tea that can be purchased in many different places throughout Brazil, Peru and South America.
Yerba mate tea is made up of the leaves of the Ilex tree and it can give you a tremendous boost when it comes to your energy levels. It is an herb that is very useful for those who need to adapt to higher altitudes. If you are a mountain climber then yerba mate tea can become your best friend because it can give you a tremendous lift!
Part of what leads to this lift is the caffeine found in yerba mate. However unlike coffee yerba mate is rich in vitamins, minerals and amino acids. All of these healthy ingredients are able to balance out the effect that caffeine brings about in your system.
In other words it will be smoother and will provide you with a longer lasting energy lift that can make you feel like you are on top of the world … or maybe ready to take on the world!
Yerba mate is very potent in a good way. It contains 90 percent more antioxidants than are contained in green tea. It also does not make you feel on edge or jittery as you would feel if you consumed too much coffee. The caffeine in yerba mate will not overwhelm you but instead it will make you feel good in a natural way.
The effect that you feel when you consume yerba mate is improved and enhanced upon by theobromine, which is a plant compound known as an alkaloid. Alkaloids are very similar in nature to acetylcholine and serotonin which are human transmitters. These transmitters have a very positive effect on both mood and memory. Tests performed on animals showed that yerba mate improved short-term memory and social memory and it also inhibited memory dysfunction and memory loss.
You may have heard of the plant compound theobromine before.
There is a good reason for this. Theobromine is one of the main ingredients found in cacao which is what is made into chocolate. It is instrumental in relaxing the smooth muscles in the blood vessels. In fact both yerba mate and chocolate that is high in cacao has the ability to reduce your blood pressure.
But there is more.
The polyphenols found in yerba mate are able to slow down the development of bacteria growth that can cause bad breath. If you have problems with halitosis then yerba mate tea is a beverage that is worth adding to your daily diet. In fact you might even want to substitute your daily cup of java for a daily cup of yerba!
You can purchase yerba mate tea at most health food stores as well as at Peruvian markets. When you make the tea it should be made with hot water but not water that is boiling (hopefully you know the subtle difference between the two). If the tea is extremely hot and you let it steep for quite some time then you will notice a very bitter taste that could be decidedly unpleasant. For that reason it is better to make it hot but then only let it sit for a brief period of time before enjoying its taste and its many health benefits.
Drink to your good health!
Becca Scott
Staff Writer
Smoke Free At Last
Filed Under: Health