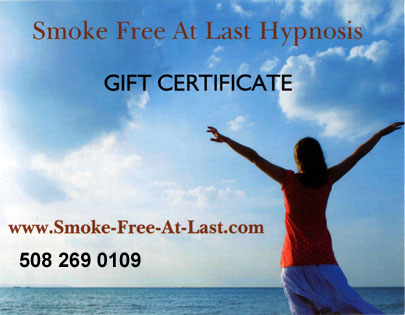 A Smoke Free At Last Hypnosis Gift Certificate is a Special Way of Saying How Much You Care For Somebody
All gift certificates are redeemable as payment towards a private and group hypnosis sessions
in any of my programs in the Worcester and Sandwich Massachusetts Areas
My hypnosis gift certificate makes an ideal present for those special people in your life, or even as a thank you to yourself, or as a way to pay for your private or group sessions.
You can pick in many different denominations and the recipient can use it towards any of my sessions, or you can look for the program to pay in full. They make ideal gifts towards a smoking cessation or weight loss program.
As a Certified Hypnotist I've also helped people with sports performance, confidence, phobias, and many other personal challenges and self-improvement goals.
If you're not sure what denomination to purchase based on the program for somebody please call me at 508.269.0109 so I can provide guidance.
Here's what to do...
Purchasing a gift certificate is easy. Just choose your gift deonomiantion, click the "Buy Now" button below, and you'll be taken over to PayPal's secure and trusted payment website where you can complete the transaction. You don't need a PayPal account to purchase.
You'll be asked during the transaction for a shipping address where we will send the gift certificate - please allow 5-7 business days for USA addresses.
If you're pre-paying for hypnosis services for yourself we will give you a receipt at your session rather than mailing a certificate to you.
* Gift certificates are valid for six months from date of issue.
I service the following towns in Massachusetts
at my Grafton and Sandwich Offices:
| | | |
| --- | --- | --- |
| Bourne | Milford | Sandwich |
| Falmouth | Millbury | Shrewsbury |
| Grafton | Mashpee | Westborough |
| Hyannis | Northborough | Worcester |
| Marlborough | | |
Erika Slater, CH
Free At Last Hypnosis
Serving Worcester: 80 Worcester Street, Suite 6,
North Grafton, MA 01536 – Telephone: 508-269-0109

Serving Sandwich Cape Cod: 141 Route 6A, STE 7, Sandwich, MA 02563 – Telephone: 774-721-0052

erika@Smoke-Free-At-Last.com
www.Smoke-Free-At-Last.com
P.S. Be sure to check out my other hypnosis services and products before leaving this site.