Stop Smoking Hypnosis CD Program - Stress-Free and Without Withdrawal
This Stop Smoking Hypnosis CD frees you from the anxieties of quitting cigarettes by helping you overcome your nicotine caravings and avoid unpleasant withdrawal symptons.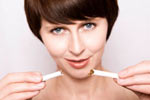 If you're looking for a self-hypnosis stop smoking course then it'll be hard to find a better program than Dr. Randy Gilchrist's "The Non-Smoker's Edge" progam.
I'm going to explain why here.
If you've arrived directly at this page on my site then I've provided some details about who I am, and my qualifications to be able to recommend a self-hypnosis program over on the left colum under the naviagtion bar.
I always like to know who is providing information to me and why I should take any notice of what they're saying - so it's only fair you have the same chance to vet me out as well.
I'm a Certified Hypnotist in the Worcester and metro-west Boston, Massachusetts region. Helping people quit smoking is a large part of my practice.
I realise many people who want to stop smoking can't get to private smoking cessation sessions, but can instead try a self-hypnosis program.
If I'm describing you then take a close look at "The Non-Smoker's Edge" program.
This is a comprehensive and inexpensive Stop Smoking using Hypnosis audio program you listen to in a quiet room, free of distractions, and relaxed in your favorite chair.

This CD program is shipped to you and will play on any CD device worldwide.

With this CD program you choose how and when it's best for you to listen to your Quit Smoking Hypnosis CD session.

This powerful and effective self-hypnosis Smoking Cessation Program produces an inner transformation in your ability to cope with quitting the habit and addiction of cigarettes.
Here's just a few of the differences it can make to your success in quitting:
| | |
| --- | --- |
| 1. | Provides you cutting edge and scientifically proven psychological and behavior modification therapy. This will change the way you think about your smoking habit so you see yourself as a non-smoker and feel relaxed around friends, family, and other smokers, without thinking about your next cigarette! |
| 2. | Offers you a powerful boost in confidence, motivation, and strength. This provides you the courage and commitment to stick to your non-smoking goal, so you know if the going ever gets tough you'll be ready to crush any thought of returning to smoking. |
| 3. | Provides you the therapy to address the common unwanted side effect of weight gain when you quit smoking. Sessions help to ensure you don't replace the habit of smoking with eating more, so you can not only rejoice with permanently kicking the smoking habit, but can also avoid the experience of packing on the pounds, and the expense of buying a whole new wardrobe! |
'The Non-Smoker's Edge ' Program is nine sessions on 7 CDs that'll get you relaxed and less stressed and no longer in need of nicotine.

This Stop Smoking Hypnosis CD program comes with a generous 100% One-Year Money-Back Guarantee so there is No Risk.
*This program is available in 3 monthly payments
.
Erika Slater, CH
Free At Last Hypnosis
Serving Hyannis & Barnstable County Cape Cod & Islands:
540 Main Street, STE 14B, Hyannis, MA 02601
Telephone: 508-269-0109 or 774-721-0052

erika@Smoke-Free-At-Last.com
www.Smoke-Free-At-Last.com
P.S. If you decide to purchase this product through this site Free At Last Hypnosis may receive a commission - please know you don't pay anymore because of this arrangement and I'm proud to be associated with Hypnosis Network products.
Signup to Receive the Free eBook: "The Secrets to Stop Smoking using Hypnosis "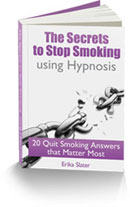 Type in your first name and email address today to
receive the Free eBook
and Hypnosis Tips
Erika Slater's Hypnosis Tips
is a free periodic email
containing quick and easy self-hypnosis techniques to
help you make big changes
in your life.
I respect your privacy and will never rent or sell this information to anyone else. I hate "
spam
" as well.
See our Privacy Policy here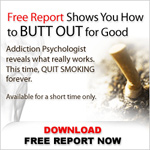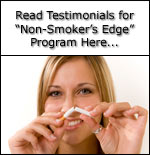 Complimentary
Product: