Why the PACE® Heart Rate Monitor Watch is Like Having Your Own
Personal Trainer there to Guide You Through Your Exercise Workout
Simple to use and easy to read,
and keeps you on track
The PACE® Exercise Heart Rate Monitor is a wrist watch and chest strap device that makes a perfect companion to your fitness program.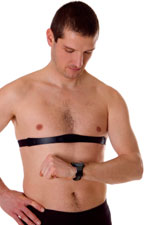 It doesn't matter if you're following an exercise program for weight loss, recovering lung capacity after years of smoking, or just trying to get started on a fitness program, the PACE® exercise heart rate monitor is simple to use and easy to read.
Heart rate monitor watches provide instant feedback on current status of your heart.
Are you going too slowly or fast to get and keep in your target heart rate.
When doing intervals you can tell immediately when you're rested enough to perform your next interval.
I'm not a very good judge of effort so I find a heart rate monitor a necessary device for myself.
Heart rate monitor watches I've used in the past have been expensive – most start around $100 – and they're complicated to operate with all the gadgets they provide – which frankly I don't need.
When I started Dr Al Sears PACE® 12-Minute Fitness Revolution as part of my own exercise for weight loss program, I realized quickly having an easy to use heart rate monitor would be vital to keeping me focused and on my training track.
Some modern gym equipment – especially treadmills – has built-in basic heart rate monitor devices as many exercise routines have target heart rates to ensure you're extending just the right amount of effort for your goals.
But obviously you can't take them with you when you go outdoors and they're not available on most equipment I use.
Target heart rates vary by age and the outcome you want.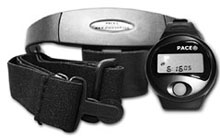 And as distracting as it can seem at times it's considered the most effective way of measuring progress and ensuring you don't extend into the danger zone or kid yourself you're getting a tough workout when you're not.
The PACE® Exercise Heart Rate Monitor comes with a strap that fits around the chest to ensure accurate readings are sent to the wrist watch device.
The monitor has simple to set alarms so you don't have to constantly keep monitoring your performance using the display.
Dr Sears PACE® 12-Minute Fitness Revolution program comes with detailed exercise routines to suit your goals and these include target heart rates and the book covers how to integrate a Heart Rate Monitor into the workout you choose.
As Dr Sears explains "It's like having your own personal trainer there to guide you through your workout."
At the moment he is offering some enticing bonuses with his heart rate monitor watch and you can get the PACE® Heart Rate Monitor here.
NOTE: The PACE 12-Minute Fitness Revolution book is sold separately from the PACE® Heart Rate Monitor wrist watch, and this is because Dr Al Sears wanted people to be able leverage an existing heart rate monitor watch if they had one, or just get a monitor if they were already in a fitness program.
Pick up Dr Al Sears PACE: Heart Rate Monitor here.
Erika Slater, CH
Free At Last Hypnosis
Serving Hyannis & Barnstable County Cape Cod & Islands:
540 Main Street, STE 14B, Hyannis, MA 02601
Telephone: 508-269-0109 or 774-721-0052

erika@Smoke-Free-At-Last.com
www.Smoke-Free-At-Last.com
P.S. If you decide to purchase any of Dr Al Sears' products through this site Free At Last Hypnosis may receive a commission - please know you don't pay anymore because of this arrangement and I'm proud to be associated with Dr Sears' products.