Stop Smoking Hypnosis Download Program - 10 Steps to Become
a Non-Smoker
This Stop Smoking Hypnosis Download program has 10 hypnosis sessions that'll gently move your mind from its current addicted state to complete freedom from cigarattes.
This is a proven and affordable Stop Smoking by Hypnosis MP3 program you listen to in the comfort and quiet of your own home.

Because it's a product you download from the internet to your computer you can burn it to CD or put it on your iPod or any other MP3 player.

You choose how and when it's best for you to listen to your Quit Smoking Hypnosis Download sessions.

No waiting! - You can begin Stop Smoking with Hypnosis in just a few minutes after you've completed the download of this remarkable self-hypnosis Smoking Cessation Program.
Mark Tyrrell is the creator of the '10 Steps to Become a Non-Smoker' program and is a highly experienced hypnotherapist and psychology trainer.

This Stop Smoking Hypnosis Download product comes with a 100% 90-Day Money-Back Guarantee so there is No Risk.
You also get access to bonus download and email instructions on how to get the best out of the program.
NOTE: Clicking on a link may result in a commission
being paid to Free At Last Hypnosis.
Erika Slater, CH
Free At Last Hypnosis
Serving Hyannis & Barnstable County Cape Cod & Islands:
540 Main Street, STE 14B, Hyannis, MA 02601
Telephone: 508-269-0109 or 774-721-0052

erika@Smoke-Free-At-Last.com
www.Smoke-Free-At-Last.com
Signup to Receive the Free eBook: "The Secrets to Stop Smoking using Hypnosis "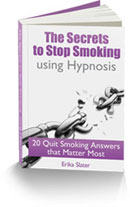 Type in your first name and email address today to
receive the Free eBook
and Hypnosis Tips
Erika Slater's Hypnosis Tips
is a free periodic email
containing quick and easy self-hypnosis techniques to
help you make big changes
in your life.
I respect your privacy and will never rent or sell this information to anyone else. I hate "
spam
" as well.
See our Privacy Policy here


Complimentary
Product: