Free eBook
Hypnosis has been used to help people to Quit Smoking for over 40 years and is a proven method to get people out of the smoking trap for good.
However, people approaching hypnosis for the first time usually have questions. In this easy to read eBook you can download, I answer the top 20 questions I'm asked and so there's a good chance the information you're looking for is in this special eBook.
To get your free copy of my ebook and my valuable hypnosis tips I publish periodically just fill in the form below and press submit and within a few minutes you'll be reading about how hypnosis can help you stop smoking.
Signup to Receive the Free eBook "The Secrets to Stop Smoking using Hypnosis"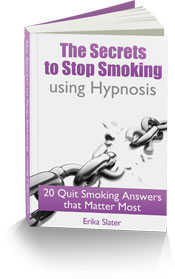 Type in your first name and email address today to receive the Free eBook and Hypnosis Tips
Erika Slater's Hypnosis Tips is a free periodic email containing quick and easy self-hypnosis techniques to help you make big changes in your life.
I respect your privacy and will never rent or sell this information to anyone else. I hate "spam" as well.
See our Privacy Policy here
Erika Slater, CH
erika@smoke-free-at-last.com
www.smoke-free-at-last.com
508 269 0109