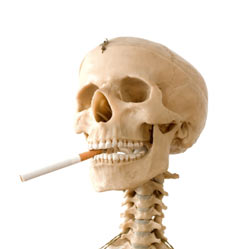 Are you about to embark on a quit smoking program? Have you determined you're ready to stop smoking?
Whatever method you've decided to help you quit doesn't matter, but recognize you've made a monumental decision to stop and become a non-smoker. I congratulate you.
When is the day? Is it January 1st or next week or next Monday?
If it is any of these then I ask you with all respect – "Why not now?"
What are you waiting for? One last puff?
Or maybe the chances to finish the pack you just bought and spent $8 on?
But wait, maybe this Friday is your weekly night-out with friends and after this party that's the right time.
All these excuses are common – as long as you recognize that's what they are – just excuses.
Here is my concern on continuing to smoke once you've made up your mind to quit – even just hearing your last one smoke plead – it could well be your "last smoke" causes "your last breath."
You see, nobody knows which cigarette causes the trigger to a health problem that leads to a serious health problem and even premature death. Nobody can tell you when you've "crossed that line."
Taking another cigarette after you've decided to quit is like continuing to play Russian Roulette and pulling the trigger even when you've decided to stop playing the odds of the next chamber housing the bullet that goes through your head!
If you've decided to quit because you're ready then don't wait – Ignore all this stuff about quitting day, and getting prepared while continuing to pull the trigger, sorry – smoke. Instead, take a deep breath and throw the cigarettes away.
Sure, you may need help getting over some withdrawal symptoms or what to do with your fingers now – a symptom of your habit. But you can get help for all these challenges from a support group or a hypnotist.
Statistics show that smokers are notorious for finding excuses not to stop even when they've decided to quit. I talk to many smokers who book in on one of my stop smoking programs but never turn up for their first private or group session. It's so common that many hypnotists charge an appointment fee when you book and before you ever attend a session.
Your "Last Smoke" should be the one you had just prior to making the decision to quit.
Everything else is just an excuse.
Are you really ready to quit? It is life changing and it begins now.
Good luck – you know how to contact me if you need advice or help.
Erika Slater, CH
Director
Smoke Free At Last
Filed Under: Stop Smoking